6/22/1499 DR
TREASURE
ITEM

RECIPIENT

LOCATION

FOUND

NOTES
Patriarch Voldon (Human in late 60's, graying hair, slight elven ancestry, has a very commanding presence) meets with us and informs us that King Kalak is dead and Tithian has now been crowned king. There is rioting in the city of Tyr and the council is trying to calm things and quell the chaos.
He places a large crystal of Rose Quartz on the table. The psions notice a memory float from his head, into the quartz. A three-dimensional image of an elf laying next to a broken wall holding something out of sight appears in the air for all to see. "Patriarch, there is a storm, there is something here…" then the image of the bloody elf fades. The patriarch then tells us that he would like us to find the caravan and what they were searching for. The group feels that he's withholding something so Karim asks for complete honesty. Patriarch Voldon admits that he knows nothing about us and isn't sure whether he can trust the security of his house to strangers. If we succeed at this, then he'll feel more comfortable sharing with us. He gets an agreement from each of us to serve him for a year and a day as we promised and to help him find his caravan. Each of us agrees and then the Patriarch tells us that if we need anything, Atrena can help us. He then lays out a silken map of Athas and tells us that the map is worth a king's ransom, but it is for us. He then encourages us to get to know each other and leaves the room, as does the oppressive atmosphere that he'd brought with him.
Karim, the noble psion, leads the discussion and finds out that Naivara is an Eladrin Ardent recently arrived on Athas. "Dante" is a strange elf who doesn't say much, but seems like he can handle himself as can Ee'Klek'Tyk the Thri-Kreen ranger. Jazeera, his Mul fighting partner battlemind, looks at him as he mumbles that they've fought with worse. She chuckles and mutters that they've killed worse!
About the time we've finished introducing ourselves, a huge 14' tall Half-Giant, Asai, ducks into the room, leading the way for Atrena. She excuses her Patriarch, but explains that he is a very just and honest man. She decides to explain things further to us. There was an incident a year ago where the Patriarch's son died. The Patriarch sent a caravan out to the last known place where his son, Ixeal, was seen. It was a very small caravan travelling under the pretext of delivering supplies to Altaruk, when they were actually searching for Ixeal. The caravan hasn't been heard from since. Atrena then agreed to outfit us with whatever we needed and then she leaves.
The group splits off with Jazeera and Klek' going off to practice sparring. Naivara goes to clean up, while Karim goes to look up info on Alturak, but finds that no one is allowed into the library, so he asks Atrena for a book on that area, which she delivers to him. Dante goes out to the slaughterhouse to refill his canteen with blood as stealthily as he can.
That night, as they're sleeping, the whole group has the same Dream: We're standing on a hill, unlike any we've ever known. Underfoot is a thick green plant life that we've never seen before. There is a lake of water with more water than we could imagine. We look around and see four other individuals dressed in heavy metal armor, with crystals floating around their heads, carrying metal arcane weapons. Not too far away lays a powerful, inhuman being and three indistinct figures surround it, drawing something something from it, to bind and seal it. A voice nearby says,"We have no other choice." and then we all wake up.
The next morning we wake up and find the supplies that we had requested and set off early heading south-east out of Tyr, following the road. Karim uses the map to keep them on track and Klek keeps searching dangers along the road. The first day the heat takes its toll on Dante and Karim. The second day the foot traffic on the road thins, but the group grows more accustomed to the Athasian Sun.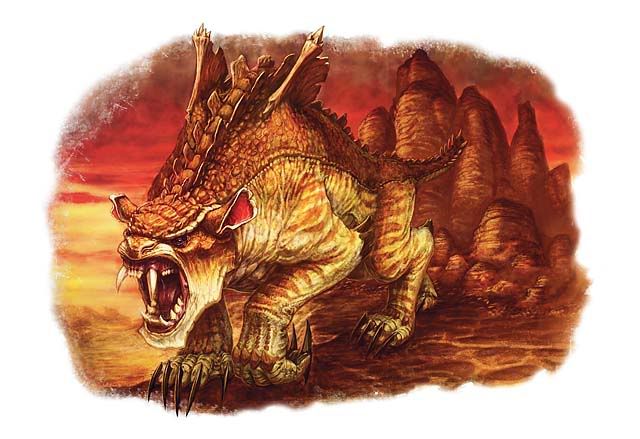 As the day grows to an end, Klek finds a very obvious path made by a small caravan, but from 3 weeks before. Along the path lies a strange dust devil that is holding in one place, instead of moving around. The Thri-kreen scouts ahead and finds two half-starved Tembos on the path ahead. Around them swirls a strang whirlwind. Since they have no other choice than to encounter them, the group decides to take them head on. The Mul remembers that the Tembo have an aura that sucks life from their prey as the group closes in. The Whirlwind around them kicks up dust and lessens visibility during the fight. While fighting we notice that there is a mark of Nibenay on the should of each creature, almost as if these creatures were genetically enhanced in that city. As the wind starts and stops, we seem to notice that the whirlwind seems to generate from a pile of boulders to the east of our position.
We finally finish off the necrotic creatures, after a very difficult battle (we were unused to working together as a group), we notice that the wind dies down some, but a small green light from the area of the boulders catches our attention. Klek approaches and finds a vibrant green vine growing out of a crack in the ground. As Klek searches closer he finds a well hidden trap door in the ground and reports. We all go over and see that it is a stone door with glyphs in a language that none of us understand, except for Naivara. The language is old Eladrin, but hard for her to even read. Klek is impatient and pulls open the door and we all see a 6 foot tall tunnel with grass and moss growing on the sides. A scent of moisture and honey wafts up as we all enter the tunnel.
The sloping tunnel is covered in green vines further in and the floor is covered with old bones and decayed weapons. A voice speaks in old common from up ahead: Begone servants of Nibenay we harken to Avor Firesworn who protects this realm and it's tree." Karim translates for everyone else as the group carefully advances. We notice two undead, one resembling a dwarf while the other resembles an Eladrin, who repeats the warning. Karim does his best in the old language to explain that the group hails from Tyr.
The dwarf asks,"Child of Tyr, why are you here?" as they draw their weapons and an undead cat-like creature charges us.
Klek steps forward and tells the undead the name of his clutch and clan, to which they respond, "We don't remember any of the Hashi-Akar running with the Nibenese."
Jazeera points out that we wear the badges of House Voldon, but the Elf counters that they remember House Voldon supporting Kalidnay, but that doesn't mean that they aren't now aligned with Nibenay.
Dante indicates that we're seeking the psion of House Voldon. They tell us that "the bearer left with the God-Bone and a cutting, the same way he came. We showed him out."
Karim tells them that the bearer never returned home and we were sent to find him. They reiterate that the "bearer left the way he came."
Naivara tells them that the Eladrin aren't with Nibenay. The Eladrin undead stated, "We remember when the Eladrin first fell, we remember the fall of Aska-Tyr (which was an Eladrin city that fell 3000 years ago). We will remember. The tree of life is the hope of Athas. For 3000 years we have been its guardians. We will let you pass, but be aware that there are traps ahead and if you hurt the Tree, you hurt the future." The undead then fade away and leave the group with more questions than the answers they got. Klek wants to hunt the prey (Ixeal), but we all convince him that we need to search deeper to find out more information about the psion before we follow him. Since he obviously wasn't headed back to Tyr, we need to understand where he was headed next.